If you are looking for things to do this Halloween — in addition to trick-or-treating — there is no shortage of events this year. The following is a list of seven of the Halloween-themed events happening in the Prescott area:
Safe Trick or Treat event
The 2022 Safe Trick or Treat event at Findlay Toyota Center — both inside and outside the center — is scheduled for Monday, Oct. 31.
The Prescott Valley Early Bird Lions Club will have its annual Safe Halloween Trick or Treat event from 4 to 7 p.m. This free Halloween event will include numerous businesses, organizations, and individuals participating and handing out candy treats.
Tables will be set up both inside and outside the center.
Haunting on the Green
The Prescott Valley Community Services Department and the Prescott Valley Police Department invite boys and ghouls of all ages to creep it real at this year's Haunting on the Green — a free, family event full of fall fun.
The Haunting on the Green will take place from 4 to 8 p.m. Friday, Oct. 28, at the Prescott Valley Civic Center amphitheater, 7501 E. Skoog Blvd.
The evening will be full of games, a haunted house, inflatables, a bike rodeo, costume contests, treats, pumpkin painting and spooktacular giveaways. It also, reportedly, will include a Zombie Flash Mob!
For more information, contact the Prescott Valley Community Services Department at 928-759-3090.
Monster Mash
Zombies, Ghosts & Ghouls are all invited to the incredibly fun, family-friendly, Halloween-themed "Dead Man's Party," known as Monster Mash at the Elks Theater and Performing Arts Center Crystal Hall, 117 E. Gurley St., Prescott, at 7 p.m. Friday, Oct. 28.
Come to the party dressed in your favorite costume and enjoy Halloween's most monstrous tunes. Time Warp with the Witch Doctor and the Werewolves of London as Transylvania descendants Lynzee 4man, John Knispel and Taylor Caprara rock out with songs such as Thriller, Evil Woman and Superstition.
There will be an adult costume contest with prizes as well. Tickets are $24 to $27 including fees.
For more information and to purchase tickets, call 928-777-1370, or visit www.prescottelkstheatre.org.
Trick or Treating at Memory Park
Join the Town of Chino Valley for a ghoulishly good time. Trick or Treating is an annual family-friendly event with kids activities, a Zombie Zone and snacks for sale — allergy-free treats too — from 2 to 5 p.m. Saturday, Oct. 29, at Memory Park, 1020 Palomino Road, Chino Valley. Have a fang-tastic time!
For more information, call the Chino Valley Rec Department at 928-636-9780 or email recreation@chinoaz.net.
Boo at the Zoo ​​
Boo at the Zoo is a fun family event from 5 to 8 p.m. Monday, Oct. 31, at the Heritage Park Zoological Sanctuary (HPZS), 1403 Heritage Park Road, Prescott.
The gates will open at 5 p.m. for families with children 6 and younger, and at 6 p.m. for all ages. The last admission will be at 8:30 p.m.
Come in costume and trick-or-treat at different stations around the sanctuary to see your favorite animals. Bring a flashlight and see all the nocturnal residents and don't forget to visit the new Boo Zone!
Admission prices are $7 for zoo members and $10 for non-members. Skip the line and buy your tickets in advance by visiting the gift shop, or purchase your tickets online at www.heritageparkzoo.org/index.php/events/boo-at-the-zoo.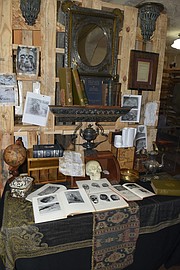 Nightmare at the Museum
The Museum of Indigenous People is coming to life with chilling tales and artifacts from Native American folklore.
"Nightmare at the Museum," a special Halloween exhibit in the museum's Pueblo Building, 147 N. Arizona Ave., Prescott, will be open from 10 a.m. to 4 p.m. through Saturday, Oct. 29, with a special presentation on Halloween night from 4 to 9 p.m. Monday, Oct. 31.
The exhibit offers more than a typical haunted house with informative displays in addition to spooky surprises. It will be both Halloween season-themed and educational, with respect to the Native cultures that are featured.
For more information about the exhibit and to purchase tickets, call 928-445-1230, or visit www.museumofindigenouspeople.org.
Halloween Happening
Families are invited to explore the natural wonder of the Highlands Center for Natural History at night in a safe and exciting environment from 5 to 7 p.m. Friday, Oct. 28.
The Highlands Center is located at 1375 S. Walker Road, Prescott.
Wander along well-lighted, paved paths in your costume and explore the features of this event, including storytelling by candlelight, scavenger hunts, insect tasting, and crafts. Free for members; $6 for adults, $4 for 3- to 13-year-old non-members.
To register, visit highlandscenter.org/upcoming-event/halloween-happening.
Jesse Bertel is a reporter/videographer for the Prescott News Network. Follow him on Twitter @ JesseBertel, email him at jbertel@prescottaz.com, or call 928-445-3333, ext. 2043.