Do Portugal Circus, where your circus dreams come true, is coming to the Prescott Rodeo Grounds, 840 Rodeo Drive, from Oct. 28 to Nov. 6. Every show is filled with spectacular sights, amazing experiences, and unforgettable memories.
Since opening in 1994, the performers of Do Portugal have become masters of their craft. Trapeze artist Aldo Portugal explained that the show goes above and beyond expectations to bring you a fantastic show you will not forget, full of fun and excitement while bringing you the magical touch of a classic circus.
"From the beginning of the show to the end of the show, all of the athletes are high level," Portugal said. "We have a slack wire, we have high wire. We have motorbikes, which is impressive. These guys are only 19 and 18 years of age and these guys are crazy. Without without a doubt, I feel like they are one of the best in the country. They've been doing it since they were 10 years old. So, they are really, really good and the show is a blast from the beginning to the end."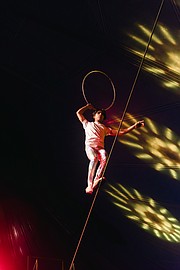 Portugal is a fifth-generation circus performer who started 10 years ago, when he was 12.
"I remember going to my dad and being like 'I'm getting older. I need to learn something,'" Portugal said. "He was like, 'Okay, I'll teach you trapeze,' and that's how I got into it."
The most important part of being a trapeze performer, Portugal said, is controlling the fear of being up so high.
"When you practice at a low height, you have to do everything super good and super calmly," Portugal said. "Once you are 20, 25 feet above the ground with one hand, that's when your mind starts playing tricks on you. So, once you control the fear, it's all good."
Over the years, circus performances have evolved away from using animals and shifted toward focusing on more intense and amazing athletic abilities.
"We used to perform with animals and as time changes, as people learn, we have decided to perform without them anymore," he said. "We just hired better performers and we had to focus harder in order to make a balance."
According to Portugal, one of the things that makes this circus stand out among others is the young, highly focused performers that are able to execute more daring tricks.
"If I'm not wrong, they always perform at least 25, but we are young," Portugal said. "We are very young and we like pushing it farther and farther. So, I feel like that's the difference."
Du Portugal Circus is performing shows at the Prescott Rodeo Grounds on the following dates and times:
• Friday, Oct. 28 — 7:30 p.m.
• Saturday, Oct. 29 — 5 and 8 p.m.
• Sunday, Oct. 30 — 2 and 5 p.m.
• Thursday, Nov. 3 — 7:30 p.m.
• Friday, Nov. 4 — 7:30 p.m.
• Saturday, Nov. 5 — 5 and 8 p.m.
• Sunday, Nov. 6 — 2 p.m.
For tickets and more information, visit www.doportugalcircususa.com.
Jesse Bertel is a reporter/videographer for the Prescott News Network. Follow him on Twitter @ JesseBertel, email him at jbertel@prescottaz.com, or call 928-445-3333, ext. 2043.